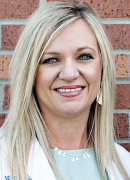 Missy Kilkenny, H.I.S. joined Southern Missouri ENT & Allergy in July of 2006 as Clinic Manager. Missy received her Bachelor of Science in General Business in 2002, her Missouri Hearing Instrument Specialist License in 2017 and her Board Certification in Hearing Instrument Sciences in 2022.
Missy is a member of the International Hearing Society, American Academy of Otolaryngology Administrators, and Missouri Group Management Association of Missouri.
Missy specializes in hearing aid selection and fitting, as well as hearing loss management through patient/family counselling. Her top priority with her patients is offering the utmost quality of care. "My goal is to provide West Plains and surrounding areas with a superior medical clinic where patients feel welcome and receive top notch care." She enjoys seeing how improving patients' hearing improves the quality of life not only for the patient, but for friends and family.
She was born and raised in the Ozarks and lives in West Plains with her husband, Mike. They have two boys (one still at home) and one granddaughter. Missy's favorite activities outside of work are watching her husband and sons drag race and spending time at the lake with her family.