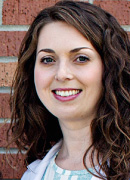 Kirstie Recktenwald, NP-C is a board certified nurse practitioner. She is trained in the evaluation and diagnosis of ear, nose, allergy and throat disorders. Kirstie received her Master of Science in Nursing from Missouri State University, Springfield MO in 2013. She previously practiced at Mercy Clinic Ear, Nose & Throat in Springfield, MO.
Before becoming a nurse practitioner, Kirstie received her Bachelor of Science in Nursing from Missouri State University. She worked as a registered nurse for five years before continuing her education to become a nurse practitioner.
Kirstie assists Dr. Hull with advanced treatment for otolaryngology problems, including ordering diagnostic testing and management of diagnosis. She maintains national certification through the American Academy of Nurse Practitioners and is licensed as a Nurse Practitioner by the Missouri State Board of Nursing.
Kirstie and her husband grew up in Mountain Home, AR. They have two sons and enjoy being in the Ozarks close to family.